Unequal parental knowledge about baby nasal hygiene
A study conducted by Nosiboo amongst 5685 parents from 6 European countries showed inequalities in their knowledge about baby nasal hygiene and in their nose cleaning habits.
It turned out that things considered fundamental in some countries might not be so obvious in others.
On average, 91% of all the respondents have heard about nasal aspiration prior to the survey, but France stands out of the list with the result of 70%.
Almost 80% of all the interviewees consider nasal aspiration to be very important, while only 64% of German parents agree with that statement.
Surprising and alarming is the fact that only 29% of German respondents use a nasal aspirator with their children regularly.
Nosiboo also asked about the most popular types of nasal aspirators used in European countries and discovered that the vast majority of parents go for very old-school, cheap solutions, originating decades ago.
Parents generally choose mouth-operated devices, apart from Germany, where the very simple bulb syringe won, and Hungary, where parents aspirate the baby's nose with a plastic tube attached to a vacuum cleaner – an idea rather unknown in different parts of the globe.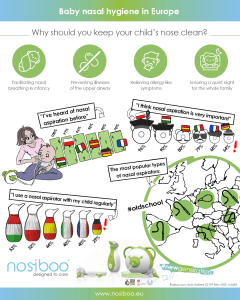 The importance of nasal hygiene should be one of the basic topics in the future parent's education.
Not everyone knows that newborns breathe only through their noses till the age of 6 months, and babies cannot blow their noses like adults do.
By aspirating the nose, we free the baby's airways and provide for the conditions of a peaceful rest and nourishment, we can also prevent illnesses of the upper airway and reduce allergy-like symptoms.
If you are looking for an innovative nasal aspirator for your baby, get familiar with the Nosiboo products here!
---
The study was conducted by Nosiboo between May 25-29th 2020, via a web survey, amongst 5685 women from Hungary, Poland, France, Germany, Italy, Spain, aged 25-41.
Nosiboo® offers the highest quality hygiene products for tiny little noses worldwide. Nosiboo® cares to make every family moment happy by delivering well-designed, innovative medical solutions. The brand was launched in Hungary in 2011, the products are currently available in Europe, the USA, and Asia.